Miles Made Easy Online Class | Aug. 21 7:00PM
10:10 AM
You Deserve a Vacation!
and we can get you there. . .cheap
!
Register for the Miles Made Easy workshop given by travel expert Mike Whitesides. Now is the perfect time to plan for your next vacation!
During this 90 minute workshop Mike will be covering:
How to fly and stay near Disneyland for cheap!

(See below)

How to plan cheap exotic vacations to make memories that will last a lifetime!
Step by step how to find and apply for the best travel credit cards.

How to meet the minimum spend requirements.

How to book travel with miles and points.
Presentation also includes one free trip consultation!
Here's an example of some recent trips the class with cover:
Flight: 8,000-10,000 miles + $10 tax
Accommodations: 40,000 points + $0
Flight: 25,000 AAdvantage airline miles per person + $75 tax
Accommodations: $249 resort certificate (included a $300 resort credit)
Reviews:
Thanks to Mike Whitesides and his blog wetravelcheap.com we are going to California the end if this month and Cancun the end of Sept. for really cheap. Free hotels in California and $249 for 7 nights in Cancun plus a $300 food credit. He is a trusted friend not just a random stranger.
We are so happy that you saved us hundreds of dollars!

THANK YOU SO MUCH!

We are looking forward to a fun CHEAP getaway!

Your tips have helped my family and I to travel and see things we could have NEVER done without your tips!
Well done, with lots of useful information. I appreciated the personal feedback given as well.
I loved it! Very insightful! A brilliant way to use credit cards in a responsible way, and benefit you and your family!
Thanks for covering so many ideas. I haven't explored many of these in the past but now feel like I have a good idea of where to start.
This is awesome, thank you so much for sharing this information!
I learned a great deal! I wasn't aware of the points system to get free hotel/condo stays.
I obviously enjoy the classes enough to attend several times so far!

I found out how easy it is to travel cheap!
Mike Whitesides is an expert traveler and has cracked the code on using airline miles, rewards and points. He knows how to fly and stay at places for a fraction of what other guests are paying. His blog www.WeTravelCheap.com is full of tips, ideas and resources for traveling cheap. He has traveled to over 20 countries and has lived in Albania and Taiwan. He loves to scuba dive and rock climb.
If you like my blog follow me on Facebook and Twitter for even more travel deals!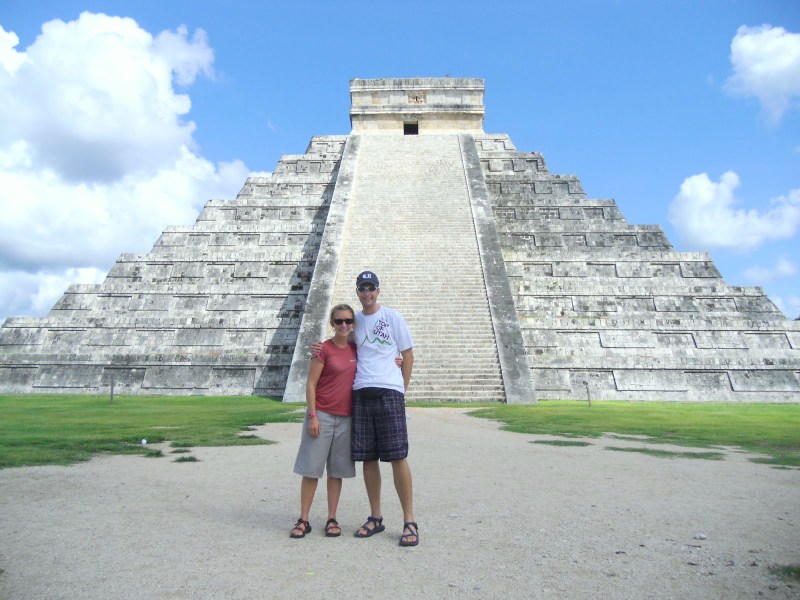 Chichen Itza, October 2011
Refund Policy: All sales are final. Sorry no refunds.